Lip augmentations have quickly become the most popular and widely requested cosmetic treatment at medical spas across the country. The internet is full of information about different treatments, products, and techniques — but how do you know which is right for you?
This is the first question that we help you answer during your free consultation at Livio! It's important for you to feel comfortable and safe about your provider and your treatment plan. We work with you to determine the best course of treatment that suits your needs, facial structure, and beauty goals.The two most important factors to consider are the type and amount of lip augmentation.
Type: flip or fill?
There are two main ways to achieve a more noticeable pout: a Botox lip flip or traditional lip filler. Both procedures are non-surgical.
Fillers can provide large amounts of volume or structural change, or gently plump and provide symmetry to the existing shape. This all depends on the brand and amount of product you choose. The following section goes into this in more detail.
A lip flip, on the other hand, involves Botox injections into the upper lip, which relaxes the muscles. When the muscles above the lip are relaxed, it causes the lip to "flip" and appear fuller.
During your consultation, we will work with you to decide which of these options better suits your facial structure and beauty goals!
Amount: how plump do you want your pout?
If, during your consultation, we agree that filler better suits your needs, then we can talk about which product is right for you.
At Livio, we use three different types of lip filler: Juvéderm, produced by Allergan, Restylane, produced by Galderma, and Revanesse Versa. All of these lip fillers are made from Hyaluronic Acid (HA), a naturally occurring substance that delivers nutrients, helps the skin retain moisture and softness, and adds volume.
Check out our Youtube video about Juvéderm here.
Any of our fillers can be used to achieve the look that you want, but some are better for subtle enhancements while others are better for building volume to create a noticeably plumped pout. You can use the key, pictured below, to explain to your provider how much of a difference you want to see in your lips. This helps us determine which of our lip fillers will achieve the best results for you!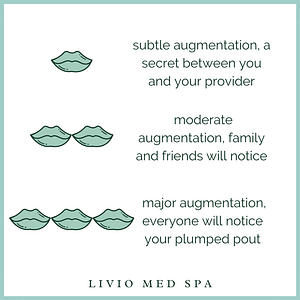 Book your free consultation today to get your #LivioLips.